Meet Star Citizen Executive Producer - Alex Mayberry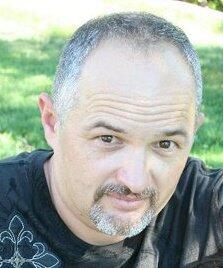 (Citizen Star News) - 2014-05-13 - Cloud Imperium Games announced new Executive Producer for their flagship product, Star Citizen. Alex Mayberry is leaving his position as lead game producer for Diablo III (and previously World of Warcraft expansions) at Blizzard Entertainment, to oversee all product development for Star Citizen and managing CIG's distributed development process across all production studios. (A responsibility formerly belonging to Eric "Wingman" Peterson, head of the Austin Studio, known for his popular Wingman's Hangar shows.)
This is not a small deal. It is a very important and influential position.
Alex Mayberry has 18 years experience in the industry, and 10 of them at Blizzard.

"I don't think we could have found a better fit than Alex Mayberry for helping me manage Star Citizen 's development," said Chris Roberts. "Alex brings a wealth of experience in managing very large online games with huge communities, including the biggest of all, World of Warcraft.
Alex describes what drove him to make the jump:
"After 10 years at Blizzard, I didn't think that there was anything that could ever get me to leave," said Mayberry. "But then Chris invited me to come check out Star Citizen, and after seeing the game and listening to Chris talk about his vision, I knew that I had to be a part of it. Star Citizen is bold and ambitious, with a unique and innovative approach to game development. I am extremely excited to be joining the talented people at Cloud Imperium Games, and I strongly believe that together, with Chris Robert's direction and the support of the player community, we will set a new standard for AAA games."
Mayberry may bring with him a much needed focus on quality control. It's been noted that releases have been a bit buggy which, while alphas, could have been better. Presumably, Eric Peterson can now focus more on the Austin Studio.
"As a long-time veteran of Blizzard he has an almost fanatical commitment to quality and playability, which makes him a great fit creatively. He has a sterling reputation in the industry, having helped manage many successful teams, and he'll bring that same kind of winning style to Star Citizen."
On the other hand, Mayberry was Senior producer for Diablo III, which did not launch without difficulty and still is considered by many to have been something of a disappointment. Can he overcome the "legacy of Error 37"? It's notable that most game indexes have him listed as Producer of Diablo III, but CIG's press release more focuses on his time overseeing World of Warcraft expansions. [NOTE: We've sent a request for clarification to CIG, regarding Mayberry's involvement in the initial release of Diablo III, or if he was just producer during the later well received Reaper of Souls expansion. Story will be updated with response. UPDATE: David Swofford (CIG Media Rep/Director of Communications), states that he believes Mayberry joined the Diablo team in late 2009, which make him very much part of the initial release team.]
Starting his gaming career as a Doom and Quake level designer, Mayberry also reportedly held previous positions with AT&T, United Airlines and a five-year tour of duty for the Bakersfield Police Department. His level design work was noticed by Xatrix Entertainment, were he worked on such titles as Redneck Rampage, Redneck Rampage Rides Again, Redneck Hunting, Quake 2: The Reckoning, and Kingpin: Life of Crime. For Electronic Arts he was Creative Director of James Bond: The World is Not Enough. He was also Executive Producer for America's Army.
See Also
Cloud Imperium Games - Press Release
Pixel Dynamo - Diablo III Reaper of Souls Interview Alex Mayberry
Computer And Video Games - Some online launch problems are unavoidable, insists Diablo 3 producer